Homeschooling
So -- I'm never going to go to grad school. There were many years after my original college graduation when I felt you couldn't
pay
me enough to go back to school. And now that I'm old and contemplative and hungry for knowledge, I've also got a full-time job (knock wood), a mortgage, and a kid with one more year of college left himself. That's just a few loans too many, and not enough time to do a quarter of the things I want in the first place, and that all adds up to a great big No Way.
It makes me a bit sad, but not because I think an MFA would be such hot stuff -- I have no idea what I'd even do with another degree at this point. I just think it would be a lot of fun to take classes, read shit, talk about it. Get some new ideas tossed my way, have to stretch my mind a bit, and do it among people who are interested in the same thing.
Yeah, I know. What am I THINKING? The grass is always, always greener. If I've learned anything in all this time, that's definitely a big one.
So what's a girl to do? At best I guess I can try to set myself on some kind of autodidactic course of acquired knowledge, in hopes that persistence and serendipity and an open mind will point me in the right direction, and at worst I'll end up a weird chick with a lot of useless esoteric knowledge and a radar for finding similarly geeky types at parties, where we'll huddle in the corner like Trekkies. But it seems like something I need to do -- there's a lot out there that I'm never going to discover if I'm not paying attention.
For instance:
James Purdy has died
. And James Purdy wasn't even on my radar -- I'd never even
heard
of him. But the Times obit says his "dark, often savagely comic fiction evoked a psychic American landscape of deluded innocence, sexual obsession, violence and isolation" -- so damn, that's a semester's reading right there, if only out of respect for the man.
And the thing is, I know there are hundreds and hundreds of James Purdys out there, so many writers and books and art and topics that haven't yet hove into my view. I don't even feel bad about it -- why should I? But I'd feel bad if I ignored the weird syllabus that the universe throws at me on an almost daily basis.
Today's street find:
Views of a Nearsighted Cannoneer
, by Seymour Krim, Excelsior Press, (c) 1961. What the hell is this? And who is Seymour Krim? According to the back, he was
born May 11, 1922, in the shadow of the George Washington Bridge in New York City. He was the last of four children born to Abraham and Ida Goldberg Krim. His father died when he was 8 and his mother killed herself when he was barely 10. Krim was left psychologically homeless, living first with his immigrant grandparents in Newark, N.J. and then with his older sister and her husband in Manhattan. An erratic student, he graduated from DeWitt Clinton High School in the Bronx in 1939 and entered the University of North Carolina in the fall of that year, inspired by the figure of Thomas Wolfe. Krim lasted barely a year at the southern university, then returned to New York and began a series of forays into the uptown editorial world. These included editing a western pulp magazine, working as a reporter for the

New Yorker

, writing war news for the Office of War Information, hacking out the commentary for a newsreel, writing publicity for Paramount Pictures, and living off the advance for a novel which he never completed.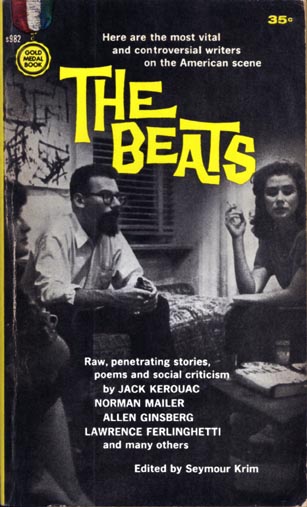 In 1960 he put together the anthology
The Beats
, which I own! In several pieces -- I think it was my mom's -- but still. And he wrote for everyone, including
New Directions
, the
New Republic
,
Commentary
,
Partisan Review
, the
Village Voice
,
Commonweal
, the
Times
Book Review, you name it. The end of the blurb says:
Seymour Krim was given a Longview Award for Literature in 1960. His comparatively limited output has been extensively reprinted in anthologies and collections. Krim is presently at work on another book and is editing a "swinging section" for

Swank

magazine.

And dig that crazy list on the front!
SEX
SUICIDE
HOMOSEXUALITY
SPORTSWRITING
JEWS
NEGROES
JAZZ
GENIUS
INSANITY
NEW YORK: THE LITERARY LOWER DEPTHS
Not only was that the last $4 I had in my pocket this afternoon, but I had to cob together a dollar of it in change. No matter. This is part of my education, and I refuse to let any of it get away.
More later.
Labels: books